About André Rieu

About André Rieu
Violin superstar André Rieu has made classical music accessible to millions around the world and has turned the waltz into an international sensation, recently extending his record as the highest grossing classical artist in Billboard's Boxscore history. Further, he continues to be the classical act with the highest attendance regularly outselling the world's top pop and rock stars. Rieu has had soccer crowds swaying to Shostakovich and has sold over 40 million albums. His romantic and joyful programs include a mixture of light classics, waltzes, music from film and opera as well as pop songs, performed by his Johann Strauss Orchestra, the largest private orchestra in the world.
His concerts are also a visual treat, from the sight of Rieu and his musicians entering through the crowd and up on to the stage at the start, to the lavish costumes and the vast screen behind the orchestra displaying beautiful imagery appropriate to each song. Together with his 60-piece Johann Strauss Orchestra, André Rieu performs to over half a million people each year, establishing him as one of the top ten touring acts in the world. His YouTube videos have reached far over a billion views. 8 million fans follow the "King of Waltz" on Facebook and 700.000 on Instagram.
Life and Early Years
André Rieu was born in Maastricht, Netherlands, and lives in a small castle from 1452 where the real D'Artagnan was said to have had his last breakfast before he died in battle serving Louis XIV. It's a castle that André Rieu as a child used to visit to take piano lessons, but he dreamed of buying and renovating it, which he did about 20 years ago.  The castle is surrounded by a beautiful garden and greenhouse, and has become a lovely place to relax from touring around the world. Encouraged by his father, a symphony conductor, Rieu began violin lessons at the age of five. Rieu's training eventually brought him to the Royal Conservatory of Brussels where he was awarded the Premier Prix.
Following The Dream
He started off working in a classical orchestra. "My colleagues only ever spoke about money and union stuff. I was unhappier every day because nobody spoke about music. Marjorie, my wife, was a German and Italian teacher back then. She said: "I will earn the money, so you can follow your dream to travel the world wit your own orchestra." So in 1987 I formed my Johann Strauss Orchestra and we started to rehearse. It was a 14 piece orchestra, and today with its 60 musicians it is the largest private orchestra in the world. Many of my musicians have been with me for over 20 years now. We are a big family!"
The big breakthrough
His performance at  the Champions League Semi Finals between Ajax Amsterdam and FC Bayern München in 1995, he says, was a turning point. "One minute before the break, Ajax scored, which made the audience outrageously happy" he said. "I then performed the Second Waltz on the pitch during intermission and the whole audience was swaying and singing along. That year, I sold more records in the Netherlands than Michael Jackson, all because of this one waltz."
After the Netherlands had been conquered, the rest of the world followed. Today, his albums are bought every­where from New Zealand to Mexico and he has sold over 40 million copies worldwide. From his successful records came even more successful concerts. André Rieu and the Johann Strauss Orchestra perform all over the world, in Australia, Mexico, Chile, , Canada, the US, South Africa, Israel and of course across Europe.
Biggest stage set ever
His live shows are an extravaganza of crinolined ladies whose every costume he gives personal approval, fairy tale castles and ice rinks. In 2007 Rieu even build a full-size reproduction of Vienna's imperial Schönbrunn Palace as a stage set for his "World Stadium Tour: A Romantic Vienna Night". At that time it was the biggest stage set ever to go on tour. With 125 meters wide, 30 meters deep and 35 meters high it only fitted in the largest stadiums. The set included 2 ice-skating rinks, 2 fountains, and a ballroom dance floor situated above and behind the Orchestra. Rieu's largest concert attendance to date was 38,605 in 2008 in Melbourne's Telstra Dome (now Marvel Stadium).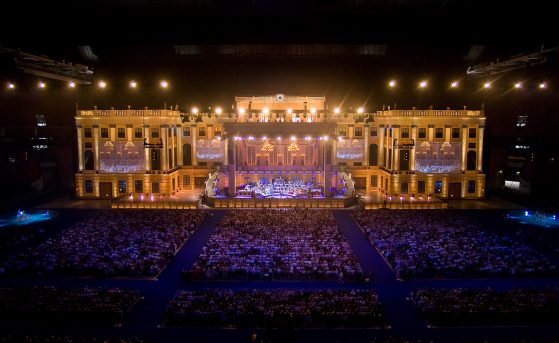 Johann Strauss
"I am in the skies and on the ground. People are always asking me how is it possible to be a businessman and an artist at the same time? My big example is Johann Strauss. He had five orchestras and he wrote fantastic music." André Rieu, too, has built himself an empire of which one of his sons, Pierre, is a vice-president. His other son, Marc, is a painter.
The Waltz as Mirror of Life
"The waltz is a very important part of my life. It is my way to express my positiveness, my way to bring humour to the world. The waltz can be sad and at the same time uplifting, so you have to recognise the uplifting part, as well as seeing life from both sides. The waltz encapsulates that. It's very interesting what a waltz does to an audience. You are in my audience and you let yourself go. You give yourself to me and the waltz will grab you. And then you will dance!"
The Family
André Rieu has been married for more than 40 years to Marjorie Rieu and the couple has two sons and five grandchildren. His wife Marjorie works with him creating the tour, the sets, the costumes, the venues. "I always wanted to be married to a woman with whom I would not only be happy, but with whom I could also work together. Without Marjorie I would lie in the gutter. We both agree that music has a healing quality. Scientists have proved that, too. Emotions are the key to my success. The way my orchestra and I play music, makes our audiences and us happy. We are on stage to make people have a wonderful time. We will continue to make music until I am 140 years old, so I'm only half way now!"