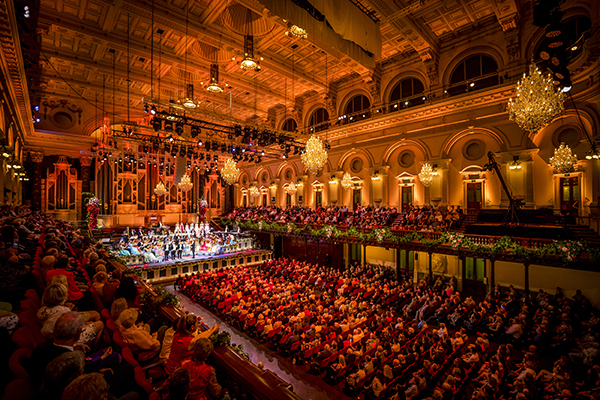 2018 turns out to be the most successful year in André's career: 93 concerts in 21 countries on five continents for 700.000 people! André and his orchestra visit Europe, Asia, North America, South America and Australia! But let's start from the beginning!
André starts the New Year with Concerts in Amsterdam and Antwerp, followed by his traditional tour throughout Germany. In Berlin he's awarded a "Chrome Violine" from his record company Universal Music for having received 500 Platinum Awards for sold CDs and DVDs. André also starts a cooperation with "Klassik Radio Select" Germany and, because of his huge success in 2017, is invited again to perform at the Semper Opera Ball in Dresden.
In March André returns to Mexico City for six sold out concerts. André and the orchestra are deeply touched and happy being in Mexico again after they had to postpone the concerts in 2017, due to the terrible earthquake. 
Just after Easter André visits Israel for the first time in his life and plays five shows. Of course André and the orchestra go to Jerusalem to visit the holy places.  The camera team follows André and the orchestra on his trip to Israel so that his fans will be able to see this beautiful  tour in a special series of the road soap Welcome to my world. The orchestra enjoy visiting the country and seeing Arabs and Jews dancing together at the arena is just one of the very special moments of this unforgettable trip.
When they return home, André records his album ROMANTIC MOMENTS II, which is released December 2018 and includes sixteen of the most beautiful romantic songs such as Sunrise, Sunset ; Amazing Grace ; the Vilja Song or By the Beautiful Blue Danube.
In May André traditionally visits Western and Northern Europe, cities such as Prague, Salzburg, Vienna, Zagreb and gives concerts in Poland and Denmark. He also performs for the first time in Sofia (Bulgaria).
In July André sets a new record by performing thirteen Vrijthof concerts, more than ever before. 150.000 people from over eighty countries travel to Maastricht to experience this unique open air atmosphere.  The concerts, themed "Amore – My Tribute to Love" are shown in cinemas all over the world, hitting a new viewership record. The magical spectacle is captured on the DVD "André Rieu – Love in Maastricht", and is released in March of 2019. As icing on the cake, Los del Rio join André on stage with their megahit "Macarena".
After their annual summer break André and the orchestra look forward to an exciting fall, visiting four continents in four months starting with a USA/Canada tour in September performing in New York, Washington, Chicago, Toronto and may more cities.
After spending a few days at home, André is on the road again and returns to Buenos Aires in October. Followed by Australia in November for his "Christmas with André Tour". 
André records a beautiful TV New Year's Concert at Sydney's Townhall including some lovely "Making Of" Images such as a full barbecue with the orchestra at the beach or celebrating New Year's Eve on a boat in Sydney Harbour. The concert is shown in cinemas in January 2019 with enormous success. It will be released on DVD, too in 2019.  
In December André returns to Ireland and the UK for his magical Christmas Concerts. The year 2018 ends with a big Christmas party for the whole team at the André Rieu Studios!