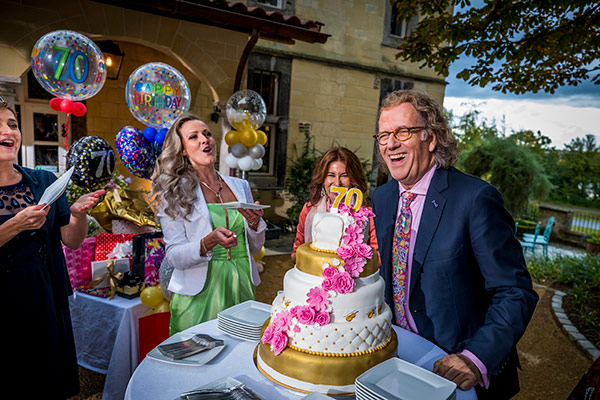 2019 is again a very successful year for André Rieu and his Johann Strauss Orchestra: The journey starts with two wonderful New Year's Concerts in Amsterdam and Antwerp, followed by a tour through Germany and concerts in Romania, Czech Republic, Austria, Switzerland, Serbia, Slowenia, Poland, Northern Macedonia, Bulgaria, Denmark, Portugal, Colombia, Chile and Spain. André Rieu and his team travelled to 17 different countries and played 78 concerts for almost 700.000 fans.
In the beginning of July, André returned on the Vrijthof for his traditional summer open airs. In the dreamful setting of Maastricht the King of Waltz and his 80 pieces Johann Strauss Orchestra performed 12 joyful evenings in front of a sold out audience with over 100.000 fans from 99 countries. The concert can be enjoyed on the magnificent DVD "Shall we dance?". This DVD also features the celebrations around André's 100th concert on the Vrijthof, including a very special and moving ceremony by the Mayor of Maastricht, who honored André with a special Award, a plaquette, which can now be found on the Vrijthof.  In July André Rieu also releases "Welcome to my World II". After the great success of "Welcome to My World", his fans wanted more. The cameras followed André and his Johann Strauss Orchestra once again on their latest world tour to capture the action both on and off stage. "Welcome to my World II" is a unique glimpse into the life of the world's most beloved violinist; from his very first concert in Romania, to rehearsals with 150 waltzing couples, to even organizing a wedding. In September André and his orchestra played for the first time ever in Colombia and were overwhelmed by the love of the Colombian audience of 36.000 fans in Bogota.
On 1st October, André celebrates his 70th birthday with his family and orchestra. In November he releases his new album "Happy Days". On this brilliant CD/DVD, his fans can enjoy great hits like Eviva España, Paloma Blanca, Mexico, and title-track Happy Days Are Here Again, as well as celebrations of romance such as the world famous Second Waltz, which marked André's breakthrough in 1994. "Happy Days" is also an homage to Vienna, the city that played such an important role in André's career. On the Bonus DVD, André takes his fans to Vienna, to the Golden Age of Operetta with beautiful waltzes, lively polkas and jauntily can cans from The White Horse Inn, The Merry Widow, The Gypsy Princess or Countess Maritza – an unforgettable journey back in time to a world of amusement, champagne and love.
After debuting in Spain and returning to Portugal, André and the Johann Strauss Orchestra set up the stage for his first Christmas concerts in his own hometown Maastricht. He turns the convention hall of the MECC in a fairytale castle and winter wonderland complete with ice rinks, skaters, a gospel choir and 100 dance couples. It was once again an unforgettable evening with an extraordinary concert not to be forgotten and the perfect ending for a – yet again – fantastic year on stage!